Kasus Infestasi Endoparasit pada Kerbau (Bubalus bubalis) di Kecamatan Praya Barat Kabupaten Lombok Tengah
Muhammad Hipzul Mursyid

Anwar Rosyidi

Wayan Wariata

Made Sriasih
Abstract
The purpose of this study was to determine endoparasitic infestation on Buffaloes in Praya Barat district, Central Lombok. Stools samples were taken from 61 buffaloes from 5 villages and examined at Banyumulek Animal Health Laboratory of Animal Husbandry and Animal Health Service of NTB Province using the floating and sedimentation methods to perceive the presence of parasitic eggs. The data obtained were analyzed descriptively. The results show that from 61 fecal samples analyzed, 20 samples (32.7%) were positively infected with endoparasites with a single type of infection and multi-species infection. A total of 13 samples (21.3%) were infected with Nematodes, 2 samples (3.27%) were infected with Cestode, 2 samples (3.27%) were infected with Trematode and 11 samples (18.03%) were infected with Protozoa. The degree of endoparasitic infection in buffaloes in West Praya district is included in the category of mild infection. Endoparasites that infect buffaloes in Praya Barat are coming from family Toxocaridae, Trichostrongylidae, Cooperidae, Anoplocephalidae, Strongylidae, Strongyloididae, Chabertidae, Fasciolidae and Eimeriidae. The highest prevalence for worm parasite was Toxocaridae with the percentage of 11.46%, whilst for the protozoa was the family of Eimeriidae accounted for 18.01%.
Downloads
Download data is not yet available.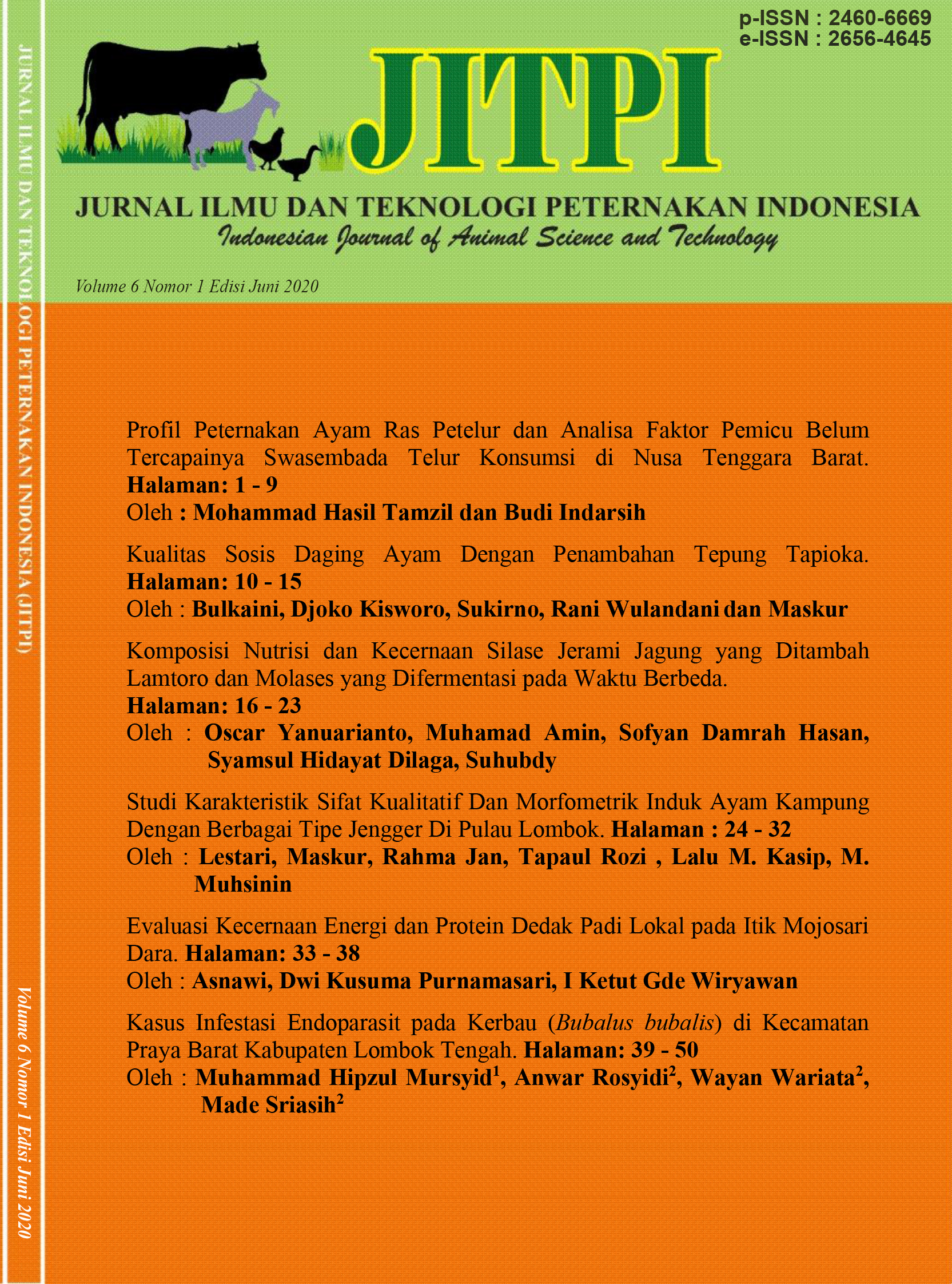 This work is licensed under a Creative Commons Attribution 4.0 International License.