Efektivitas Guci (Yogurt Ciplukan) Sebagai Sumber Minuman Kaya Antioksidan Alami
Alwi Agil

Dita Ademulani

A.K. Putri

B.R. Dewi Wulandari
Abstract
Physalis angulata L. telah diketahui memiliki flavonoid. Flavonoid pada tanaman dikenal karena aktivitas antioksidannya dan kemampuannya untuk Angiotensin Converting Enzyme I-inhibitor. Penelitian ini dimulai dengan membuat jus menggunakan buah Physalis angulata L. untuk mendapatkan profil senyawa fenolik dalam buah Physalis angulata L. asam galat, flavonol (kuersetin dan rutin), flavanol (katekin), dan flavanon. Proses pembuatan yogurt dengan penambahan jus buah Physalis angulata L. selama proses penyimpanan. Tujuan dari penelitian ini adalah untuk mempelajari kemampuan aktivitas antioksidan dan inhibitor yoghurt Igiotensin Converting Enzyme I dengan jus buah Physalis angulata L. selama waktu penyimpanan (1, 7, 14, 21 dan 28 hari) pada suhu 4oC. Aktivitas antioksidan tertinggi terjadi pada periode penyimpanan 14 hari. Yogurt dengan jus buah Physalis angulata L. dapat secara fungsional minum banyak antioksidan.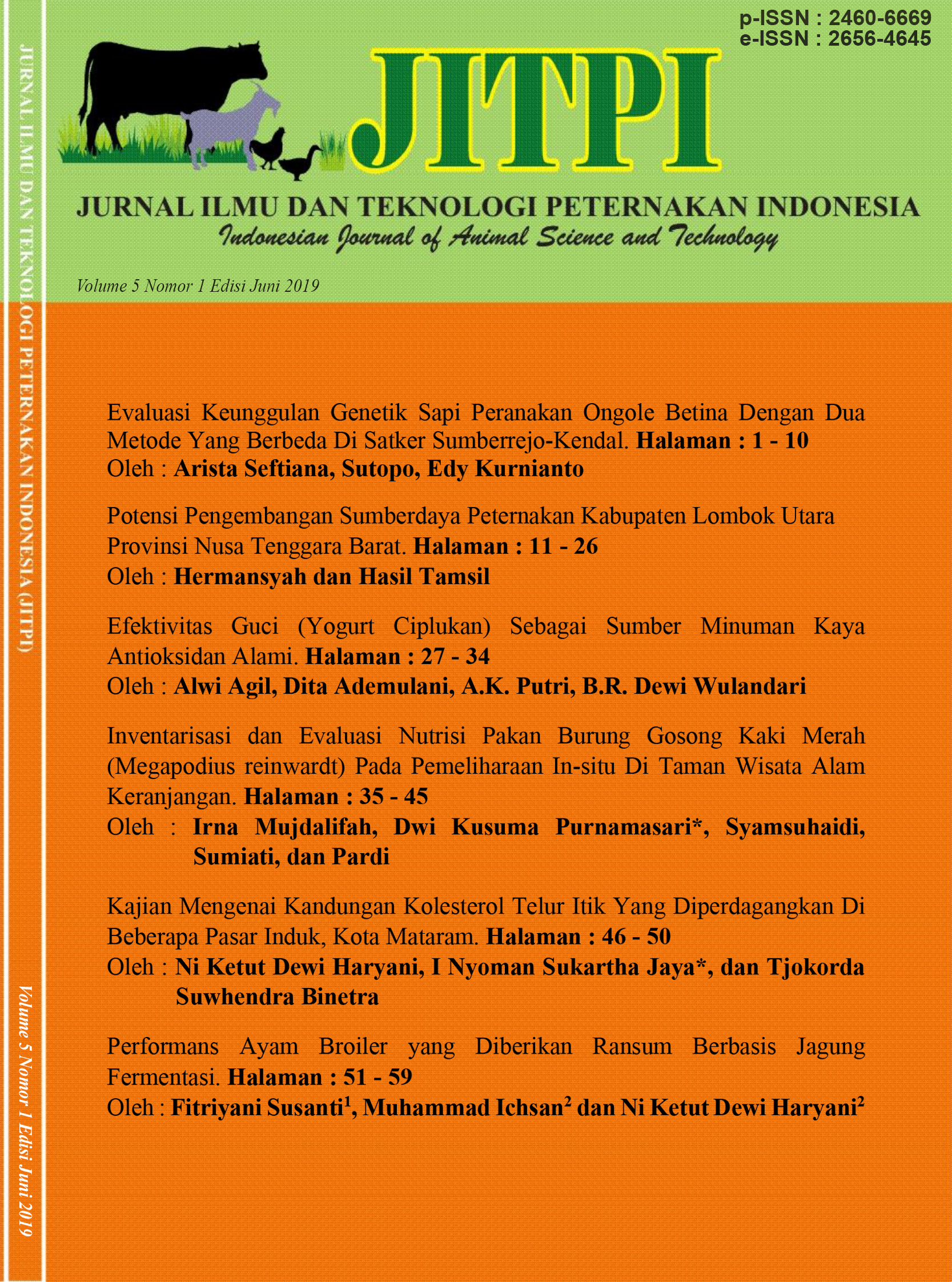 How to Cite
AGIL, Alwi et al. Efektivitas Guci (Yogurt Ciplukan) Sebagai Sumber Minuman Kaya Antioksidan Alami.
Jurnal Ilmu dan Teknologi Peternakan Indonesia (JITPI), Indonesian Journal of Animal Science and Technology
, [S.l.], v. 4, n. 2, p. 289-296, june 2019. ISSN 2656-4645. Available at: <
http://jitpi.unram.ac.id/index.php/jitpi/article/view/46
>. Date accessed: 28 feb. 2020.
This work is licensed under a Creative Commons Attribution 4.0 International License.