Studi Karakteristik Sifat Kualitatif Dan Morfometrik Induk Ayam Kampung Dengan Berbagai Tipe Jengger Di Pulau Lombok
Lestari Lestari

Maskur Maskur

Rahma Jan

Tapaul Rozi

Lalu M. Kasip

M. Muhsinin
Abstract
This study aimed to identify the diversity of qualitative and morphometric traits of Kampung chickens based on the comb-types in Lombok Island. Four hundred and seventeen Kampung chickens that are maintained traditionally were used in this study. The method used was a survey. The determination of location was done by purposive sampling, and samples taken were selected by random sampling. Qualitative data included comb-type, fur color, skin color, and foot color. Morphometric data included comb height, shank length, tibia length, femur length, the distance between pubic bones, the distance between the pubic bone and breastbone and body weight. Data were analyzed using simple statistical analysis. The results show that there were 4 (four) types of comb namely walnut comb (36.45 percent), single (30.45 percent), pea (24.46 percent) and rose (8.64 percent). Fur colors found were black, golden, striated and white. White fur color was only found in pea combs. The earlobe colors were red and white. Shank colors were black, white and yellow. The skin colors were yellow and white. The highest morphometrics of Kampung chicken was found in chickens with the type of rose comb which showed comb height of 12.16 + 2.78mm, shank length of 74.26 + 11.62mm, tibia length of 88.47 + 11.87mm, femur length of 82.11 + 12.45mm, distance of two pubic bones of  35.95 + 7.32mm), distance between the pubic bone and breastbone of 54.74 + 9.86mm and body weight of 1658.19 + 339.63gram.
Downloads
Download data is not yet available.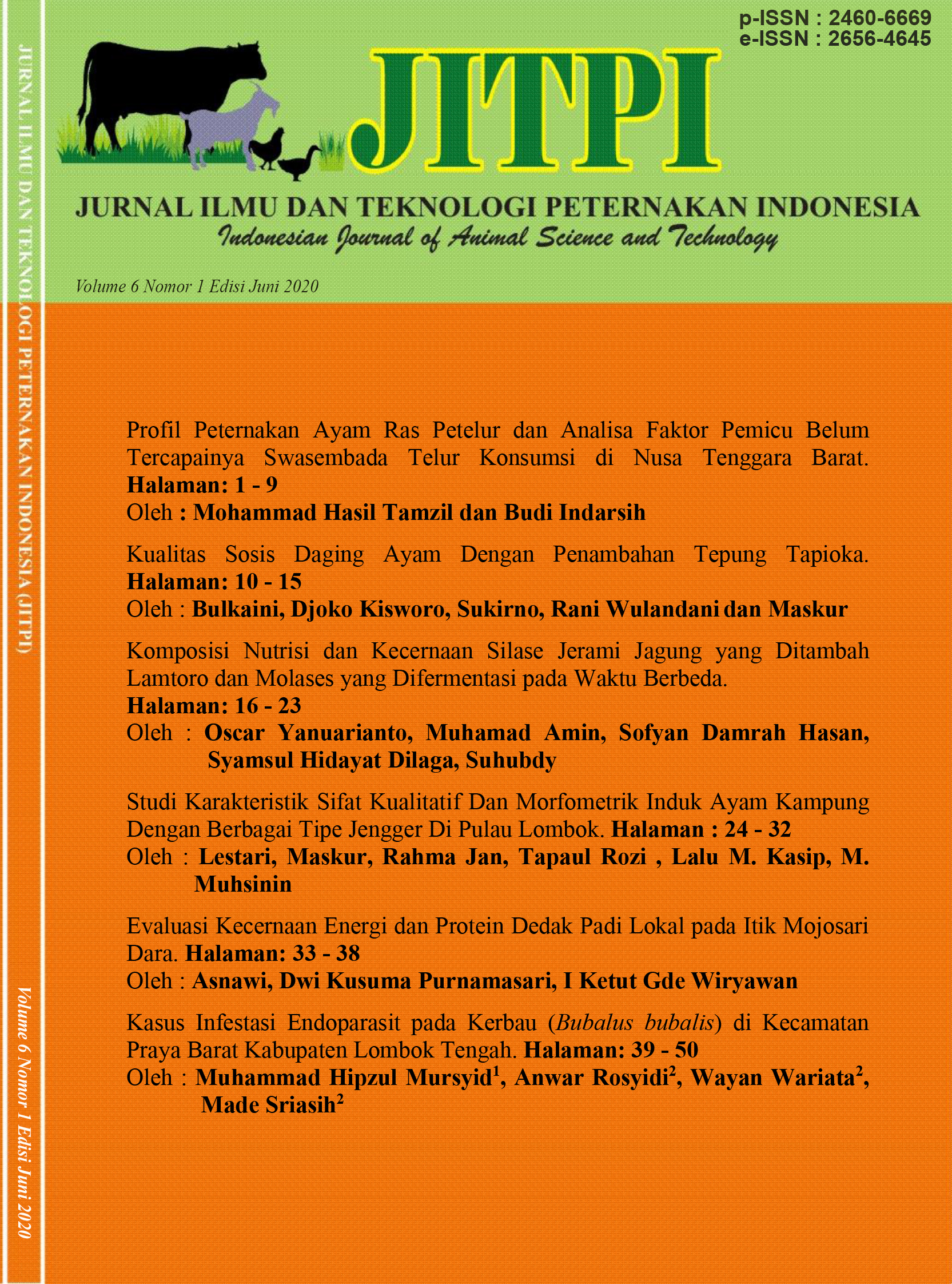 This work is licensed under a Creative Commons Attribution 4.0 International License.