Pengaruh Penambahan Simbiotik dan Acidifier Dalam Pakan Lengkap Terhadap Penampilan Produksi dan Kecernaan Protein Babi Persilangan
Danung Nur Adli

University of Brawijaya, PSDKU UB Kediri

Osfar Sjofjan

Fakultas Peternakan Universitas Brawijaya, Malang, Jawa Timur
Abstract
Tujuan penelitian ini adalah pengaruh penambahan probiotik dan fraksi mannan dalam pakan lengkap pada babi periode lepas sapih terhadap penampilan produksi dan kecernaan protein. Metode yang digunakan dalam penelitian yaitu percobaan secara eksparimental dengan Rancangan Acak Kelompok (RAK) yang terdiri dari 3 perlakuan dan 4 kelompok sebagai ulangan. Hasil nilai menunjukan bahwa perlakuan memberikan pengaruh yang berbeda tidak nyata (P>0,05) terhadap penampilan produksi, kcBK, kcPK, dan Retensi Nitrogen babi lepas sapih persilangan [(Duroc×Yorkshire)×Landrace]. Namun, memiliki nilai cenderung meningkat pada setiap perlakuan dan parameter yang diamati. Penambahan probiotik bentuk tepung dalam pakan lengkap hingga dosis 1% belum dapat meningkatkan Penampilan Produksi, KcBK, KcPK, dan RN pada babi lepas sapih persilangan [(Duroc×Yorkshire)×Landrace]. Penambahan probiotik bentuk tepung dalam pakan lengkap sebesar 1% memberikan kecenderungan nilai KcBK, KcPK, dan RN yang terbaik
Downloads
Download data is not yet available.
References
Adli, D. N., O. Sjofjan, and Mashudi. 2017. Dried of Poultry Waste Urea-Molasses Block (dpw-umb) as Potential for Feed Supplementation. Jurnal Agripet, 17(2), 144-149.

Adli, D. N., and O. Sjofjan. 2018. Nutrient content evaluation of dried poultry waste urea molasses block (DPW- UMB) on In-vitro analysis. Sains Peternakan: Jurnal Penelitian Ilmu Peternakan, 16(2), 50-53.

Adli, D. N., Y. Chi, J.W. Lee, and O. Sjofjan. 2019. Supplementation Mannan-Rich Fraction (MRF) and/or Combination with Probiotic-Enhanced Water Acidifier on Dietary Female Broiler at 28 days as Natural Growth Promoters (NGPs). Research Journal of Advanced Engineering and Science, 4(3), 427-429.

Adli, D. N., and Sjofjan, O. 2020. Growth performance, serum blood biochemistry, and intestinal properties of Arbor Acres Broiler fed diets containing mannan-riched fraction (MRF) and probiotic-enhanced liquid acidifier. Buletin Peternakan, 44(2).

Balasubramanian, B., S.I. Lee, and I.H. Kim. 2018. Inclusion of dietary multi-species probiotic on growth performance, nutrient digestibility, meat quality traits, faecal microbiota and diarrhea score in growing–finishing pigs. Italian Journal of Animal Science, 17(1), 100-106.

Chu, G. M., S.J. Lee, H.S. Jeong, and S.S. Lee. 2011. Efficacy of probiotics from anaerobic microflora with prebiotics on growth performance and noxious gas emission in growing pigs. Animal science journal, 82(2), 282-290.

Dowarah, R., A.K. Verma, N. Agarwal, P. Singh, and B.R. Singh. 2018. Selection and characterization of probiotic lactic acid bacteria and its impact on growth, nutrient digestibility, health, and antioxidant status in weaned piglets. PloS one, 13(3).

Dowarah, R., A.K. Verma, N. Agarwal, P. Singh, and B.R. Singh. 2018. Efficacy of species-specific probiotic Pediococcus acidilactici FT28 on blood biochemical profile, carcass traits and physicochemical properties of meat in fattening pigs. Research in veterinary science, 117, 60-64.

Dlamini, Z. C., R.L.S Langa, O.A. Aiyegoro, and A.I. Okoh. 2017. Effects of probiotics on growth performance, blood parameters, and antibody stimulation in piglets. South African Journal of Animal Science, 47(6), 765-776.

Herfel, T., S. Jacobi, X. Lin, E. Van Heugten, V. Fellner, and J. Odle. 2013. Stabilized rice bran improves weaning pig performance via a prebiotic mechanism. Journal of animal science, 91(2), 907-913.

Kunavue, N., and T.F. Lien. 2012. Effects of fulvic acid and probiotic on growth performance, nutrient digestibility, blood parameters and immunity of pigs. J Anim Sci Adv, 2(8), 711-21.

Mirnawati, B. Sukamto, dan V.D. Yunianto. 2013. Kecernaan protein, retensi nitrogen dan massa protein daging ayam broiler yang diberi ransum daun murbei (morus alba) yang difermentasi dengan cairan rumen. JITP. 3(1): 23-30.

Safingi, A, M., Mufti, dan N. Iriyanti. 2013. Penggunaan Berbagai Jenis Probiotik dalam Ransum Ayam Arab terhadap Konsumsi Pakan dan Income Over Feed Cost. Jurnal Ilmiah Peternakan 1(3): 970-975.

Sjofjan, O., D.N. Adli, M.H. Natsir, dan A. Kusumaningtyaswati. 2020. Pengaruh kombinasi tepung kunyit (Curcuma domestica Val.) dan probiotik terhadap penampilan usus ayam pedaging. Jurnal Nutrisi Ternak Tropis dan Ilmu Pakan, 2(1).

Widiyawati, I., O. Sjofjan, dan D. N. Adli. 2020. Peningkatan kualitas dan persentase karkas ayam pedaging dengan subtitusi bungkil kedelai menggunakan tepung biji asam (Tamarindus indica L) fermentasi. Jurnal Nutrisi Ternak Tropis,3(1), 35-40.
 
Wu, Y., L. Pan, Q.H. Shang, X.K. Ma, S.F. Long, Y.T. Xu, and X.S. Piao. 2017. Effects of isomalto-oligosaccharides as potential prebiotics on performance, immune function and gut microbiota in weaned pigs. Animal Feed Science and Technology, 230, 126-135.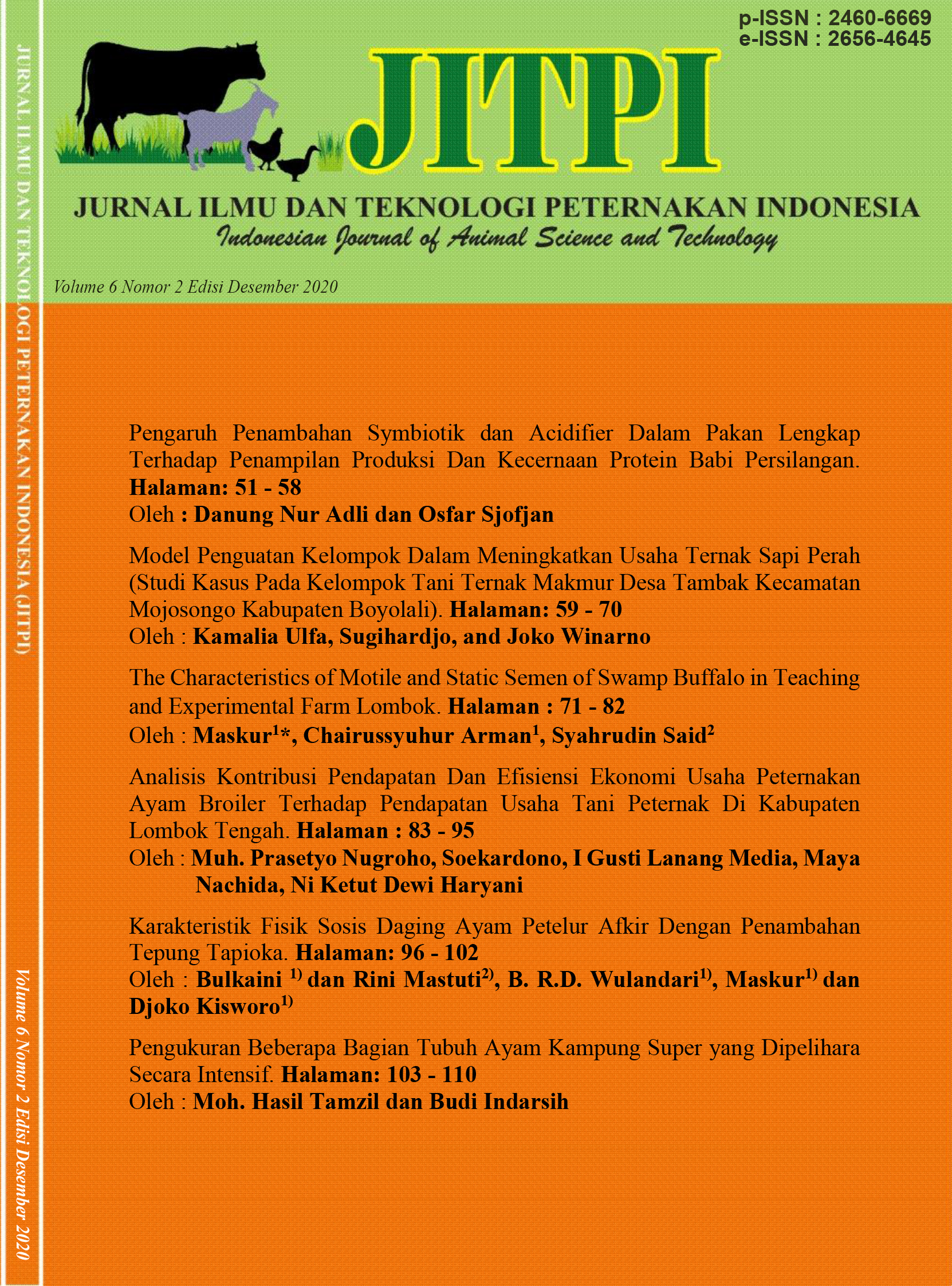 How to Cite
ADLI, Danung Nur; SJOFJAN, Osfar. Pengaruh Penambahan Simbiotik dan Acidifier Dalam Pakan Lengkap Terhadap Penampilan Produksi dan Kecernaan Protein Babi Persilangan.
Jurnal Ilmu dan Teknologi Peternakan Indonesia (JITPI), Indonesian Journal of Animal Science and Technology
, [S.l.], v. 6, n. 2, p. 51-58, nov. 2020. ISSN 2656-4645. Available at: <
http://jitpi.unram.ac.id/index.php/jitpi/article/view/75
>. Date accessed: 19 apr. 2021. doi:
https://doi.org/10.29303/jitpi.v6i2.75
.
This work is licensed under a Creative Commons Attribution 4.0 International License.