Identifikasi Keragaman Gen Leptin pada sapi Bali dan kambing Kacang
Nining Syarifulaya

UNRAM

Made Sriasih

Maskur Maskur
Abstract
The purpose of this research was to identify polymorphism of leptin gene in Bali cattle and Kacang goat by PCR-RFLP technique. Material used was blood samples collected from 50 head of Bali cattle and 50 head of Kacang goat. Identification procedure was consisted of three stages namely extraction of DNA genom, PCR amplication of leptin gene (552bp on intron 2-exon 3) and RFLP method using enzyme  restriction (BsaA1). Primer sequences used were forward primer: 5'GTCTGGAGGCA AAGGGCAGAGT-3'and reverse primer: 5'CCACCACCTCTGTGGAGTAG-3'. Data analyzed were frequency of allele, genotype frequency, heterozygosity value, and value of Polymorphic Informative Content (PIC). The results of this study indicate that three genotypes (AA, AG and GG) were found on Bali cattle whilst only two genotypes (AA andAG) were on Kacang goat. The values of heterozygosity observation (Ho) and expectation heterozygosity (He) on Bali cattle were 0.08 and 0.48 respectively. Kacang goat showed the value of 0,14 (Ho) and 0.14 (He). The PIC value of Leptin-BsaA1gene on Bali cattle was 0.43 (moderate high), and on Kacang goat considered as low (0.13). These results showed than Leptin-BsaA1 in Bali cattle and Kacang goat may be used as a genetic marker for selection.
Downloads
Download data is not yet available.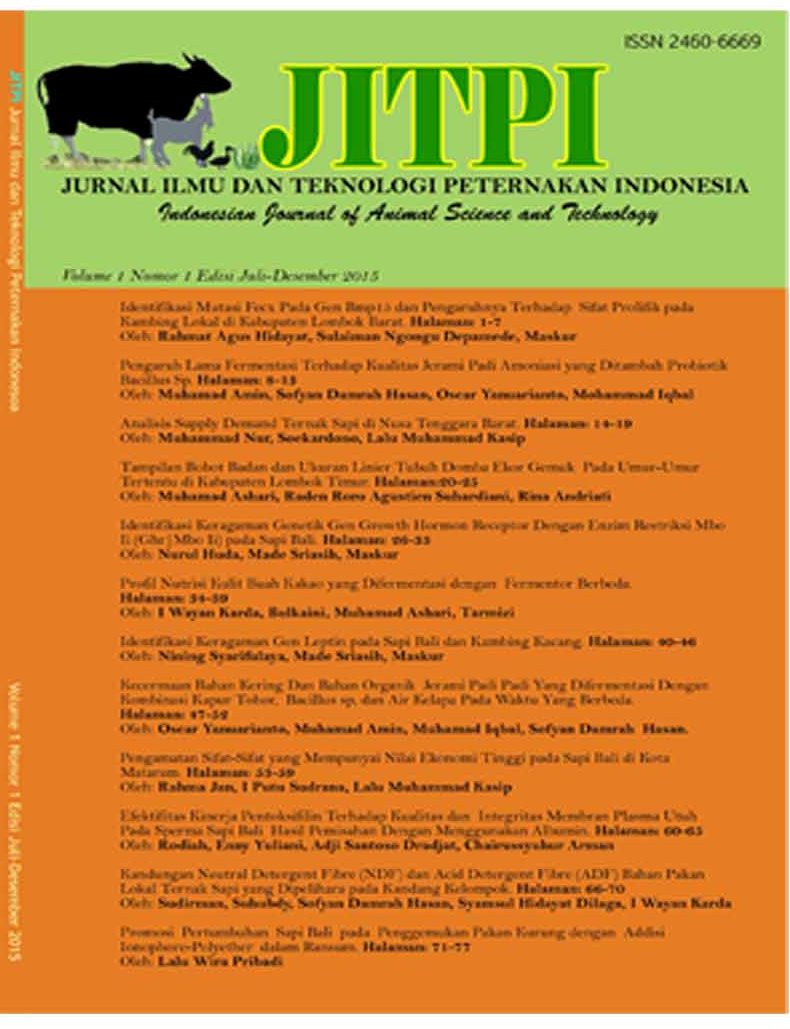 This work is licensed under a Creative Commons Attribution 4.0 International License.