Addition of Tomato Powder in the Diet of Native Laying Hens Formulated with Sardine Oil and Effects on Functional and Sensory Properties of Eggs
Aji Sukoco

Agricultural Product Technology, Faculty of Agricultural Technology, Universitas Jember

Mohammad Rizky

Agricultural Product Technology, Faculty of Agricultural Technology, Universitas Jember
Abstract
The functional and sensory properties of eggs from native laying hens fed the diets incorporated with sardine oil and tomato powder were investigated. Native laying hens (n=120; 28 weeks old) received four dietary treatments, control (sardine oil 0% + tomato powder 0%), T1 (sardine oil 2.5% + tomato powder 0%), T2 (sardine oil 2.5% + tomato powder 0.5%), and T3 (sardine oil 2.5% + tomato powder 1%). Each treatment comprised six replications and employed five birds each. The experimental design used was a 3×3×2 Completely Randomized Factorial Design with the first factor was dietary treatment, the second factor was storage time, and the third factor was storage temperature. Functional and sensory properties data were analyzed by multivariate ANOVA and one-way ANOVA, respectively, and Duncan's Multiple Range Test was applied to separate the significant values between treatments. Dietary treatment, storage time, and storage temperature showed a significant interaction with the foaming ability (P<0.05). The dietary treatment alone did not give any significant effect on foaming ability. The result also showed a sole significant effect of storage temperature on the foam stability (P<0.05). The combination of tomato powder in the sardine oil-supplemented diet improved the color, odor, taste, and texture of fried egg yolk (P<0.05). Dietary sardine oil of up to 2.5% and tomato powder of up to 1% acted synergistically in improving sensory properties without decreasing the functional properties of eggs. Tomato powder could be used in feed formulation containing sardine oil to give beneficial effects on the functional and sensory properties of eggs produced by native laying hens.
Keywords: Egg, Emulsion Stability, Foaming Ability, Sensory
Downloads
Download data is not yet available.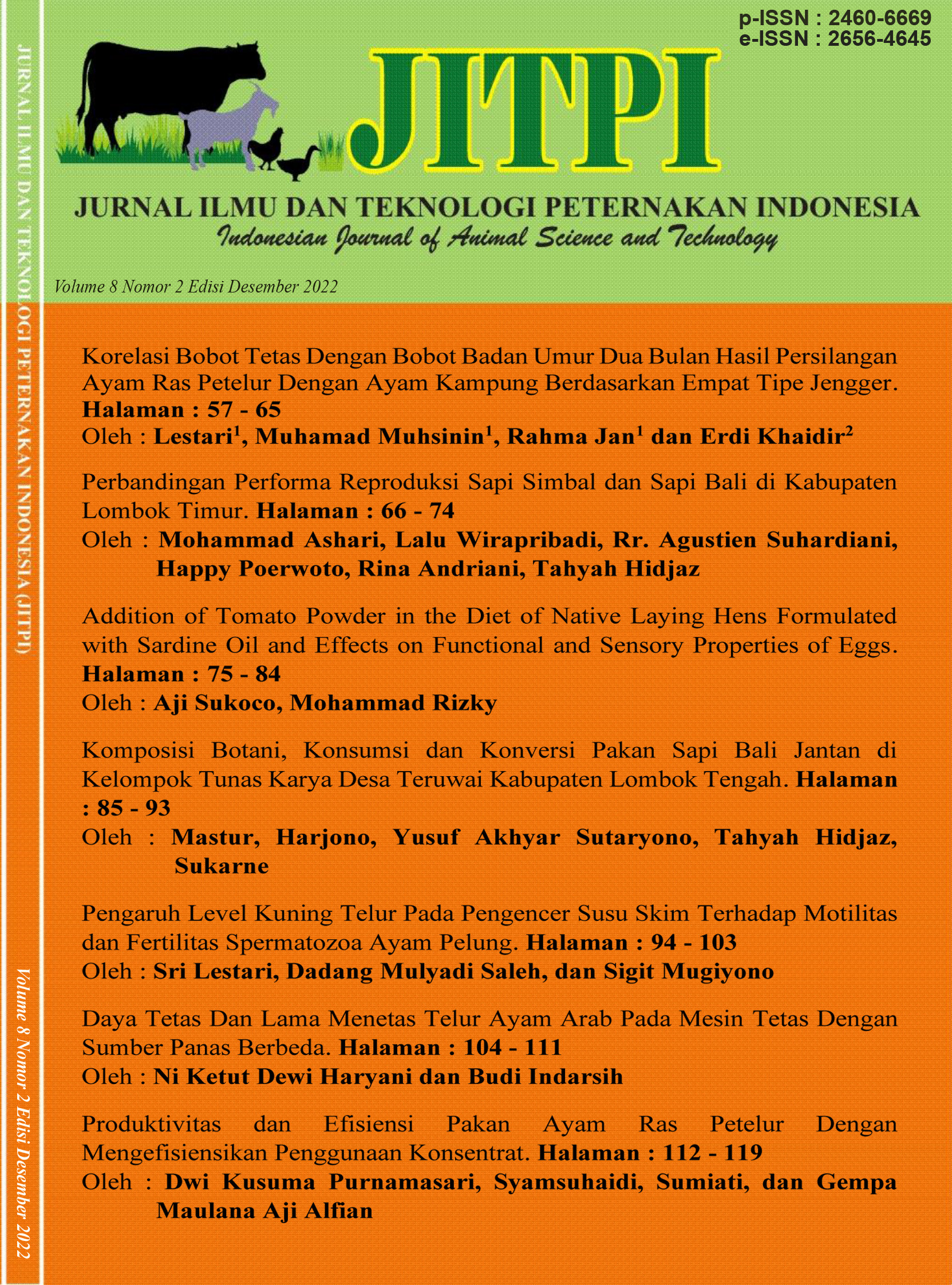 How to Cite
SUKOCO, Aji; RIZKY, Mohammad. Addition of Tomato Powder in the Diet of Native Laying Hens Formulated with Sardine Oil and Effects on Functional and Sensory Properties of Eggs.
JITPI : Jurnal Ilmu Dan Teknologi Peternakan Indonesia (Indonesian Journal of Animal Science and Technology)
, [S.l.], v. 8, n. 2, p. 75-84, dec. 2022. ISSN 2656-4645. Available at: <
https://jitpi.unram.ac.id/index.php/jitpi/article/view/160
>. Date accessed: 02 oct. 2023. doi:
https://doi.org/10.29303/jitpi.v8i2.160
.
This work is licensed under a Creative Commons Attribution 4.0 International License.