Pengukuran Beberapa Bagian Tubuh Ayam Kampung Super yang Dipelihara Secara Intensif
Mohammad Hasil Tamzil

Animal Science of Mataram University

Budi Indarsih

Animal Science of Mataram University
Abstract
Penelitian bertujuan untuk mengetahui ukuran beberapa bagian tubuh ayam Kampung Super dan hubungannya dengan bobot badan. Pengambilan data dilakukan di Teaching Farm Fakultas Peternakan Universitas Mataram, di Desa Lingsar, Lombok Barat. Penelitian menggunakan 60 ekor ayam Kampung Super jantan dan 96 ekor betina yang dipelihara secara intensif. Peubah yang diamati adalah bobot badan, ukuran lingkar kepala, panjang leher, panjang sayap, panjang punggung, ukuran lingkar dada, lebar dada, panjang paha atas dan bawah, panjang metatarsus, lingkar metatarsus, dan panjang jari ketiga. Pengukuran dilakukan terhadap setiap individu ternak pada umur 13 minggu menggunakan benang kemudian diukur dengan pita ukur, sedangkan pengukuran lebar dada dilakukan dengan cara mengukur jarak antara sisi kanan dan kanan dada menggunakan jangka sorong. Data yang diperoleh ditabulasi dan dianalisa menggunakan Regresi sederhana. Hasil penelitian mendapatkan bahwa bagian tubuh yang mempunyai kontribusi terbesar pada bobot tubuh ayam Kampung Super umur 13 minggu adalah ukuran panjang paha bawah pada ayam jantan dan ukuran lingkar dada pada ayam betina.
Downloads
Download data is not yet available.
References
Brahmantiyo B, RH. Mulyono dan A Sutisna. 2014. Ukuran dan Bentuk Itik Pekin (Anas Platyrhynchos), Entok Impor dan Entok Lokal (Cairina Moschata). JITV 19 (3)

Daikwo IS, Okpe AA, and Ocheja JO, 2011. Phenotypic characterization of local chickens in Dekina. Int. J. Poult. Sci. (10): 444-447.

Fatmarischa N., Sutopo and S. Johari. 2013. Ukuran Tubuh Entok di Tiga Kabupaten Provinsi Jawa Tengah. Sains Peternakan. 11 (2): 1-7.

Gunawan E, D. Kaharuddin, dan Kususiyah. 2018. Performans Keturunan Ayam Arras dengan Ayam Arab (Ayam Ketarras) Umur 2-12 Minggu. Jurnal Sain Peternakan Indonesia. 13(1): 89-100

Gunawan, B. and T. Sartika. 2001. Crossbreeding between male pelung and female selected native chicken at second generation (G2). Jurnal Ilmu Ternak dan Veteriner 6(1):21-27.

Hidayat Z, Nuraini dan Asmarhansyah, 2017. Studi Karakteristik Dan Ukuran-Ukuran Tubuh Ayam Merawang F2 Di Kp Petaling Kepulauan Bangka Belitung. Prosiding Seminar Nasional Agroinovasi Spesifik Lokasi Untuk Ketahanan Pangan Pada Era Masyarakat Ekonomi ASEAN.

Iskandar S., H. Resnawati and T. Pasaribu, 2000. Growth and carcass responses of three lines of local chickens and its crossing to detary lysine and methionine in the Proc. Of the 3rd International Seminar on Tropical Animal Production: Animal Production and Total Management of Local Resources. Faculty of Animal Science - Gadjah Mada University.

Ismoyowati T. J. Yuwanta, P. Sidadolog dan S. Keman. 2006. Hubungan antara karakteristik morfologi dan performans reproduksi itik Tegal sebagai dasar seleksi. J. Indonesian Trop. Anim. Agric. 31:152-156

Johari S, N.D. Kususmadani, and E. Kurnianto. 2013. Multivariate of the morphological traits of female duck, muscovy duck and mule duck. J. Indonesian Trop. Anim. Agric. 38(2):143-148,

Mu'in M.A., Supriyantono dan H.T. Uhi. 2010. Polimorfisme gen Insulin-like growth factor-I (IGF-I) dan efeknya terhadap pertumbuhan ayam lokal. Jurnal Ilmu Temak dan Veteriner 14(4): 288-294.

Musa A.M., N.Z. Idam, and K.M. Elamin. 2012. Regression analysis of linier body measurements on live weight in Sudanese Shugor sheep. Online J.Anim. Feed Res. 2(1):27-29

Muzani A., B. Brahmantiyo, C. Sumantri, dan A. Tapyadi. 2005. Pendugaan Jarak Genetik pada Itik Cihateup' Cirebon dan Mojosari. Media Peternakan. 28(3): 109-116

Nishida, T., Y. Hayashi, T. Hashiguchi, and S.S. Mansjoer. 1982. Distribution and identification of jungle fowl in Indonesia. The origin and phylogeny of Indonesia native livestock. Report by The Research Group of Overseas Scientific Survey Part III: 89.85

Ogah D.M. and M.M. Ari . 2012. Evaluating inbreeding rate in population of local Muscovy duck. Egypt. J. Poult. Sci. 32(1): 217–220.

Ogah D.M., M.O. Momoh and N.I. Dim. 2011. Application of canonical discriminant analysis for assessment of genetic variation in Muscovy duck ecotypes in Nigeria. Egypt. Poult. Sci., 31(11): 429–436.

Putranto H.D, J. Setianto, Y. Yumiati and D. Handika. 2018. Analyses of body and chest morphometric comparison between two Indonesian local poultry species. Int. J. Agric. Technol . 14(7):1719-1730

Radikara M.V, J.C. Moreki, M.H.D. Mareko and P.M. Kgwatalala. 2016. Effect of feeding commercial broiler diets on growth performance of Tswana and Orpington chickens reared upto 18 weeks of age under intensive system. Int. J. Poult. Sci. , 15: 407-413.

Sartika, T. dan S. Iskandar. 2007. Mengenal plasma nutfah ayam Indonesia dan pemanfaatannya. Balai Penelitian Ternak, Pusat Penelitian dan Pengembangan Peternakan, Badan Penelitian dan Pengembangan Pertanian.

Sartika, T., D. Zainuddin, S. Iskandar, H. Resnawati, B. Gunawan, E. Juarini, A. Ujianto, Gunadi, IP. Alam, R. Stiadi, D. Sartika, dan N. Fasyiani. 2007. Pengembangan Sistem Pembibitan "Open Nucleus" ayam kampung petelur. Laporan Penelitian Balitnak. No. UAT/BRE/J-01/APBN 2006.

Sulandari, S.,M.S,A.Zein, S.Priyanti, T.Sartika, M. Astuti, T. Wijastuti, E.Sujana, S. Darana, I. Setiawan dan G. Garnida. 2007b. Sumber daya genetik ayam lokal Indonesia. Keanekaragaman Sumber Daya Hayati Ayam Lokal Indonesia. Manfaat dan Potensi. Pusat Penelitian Biologi. Lembaga Ilmu Pengetahuan Indonesia. Bogor. Pp: 45-104.

Susanti, T., S. Iskandar dan S. Sopiyana. 2006. Karakteristik kualitatif dan ukuranukuran tubuh ayam wareng Tangerang. Seminar Nasional Teknologi Peternakan dan Veteriner. 680-686.

Tamzil, M.H. 2014. Stres panas pada unggas: Metabolisme, akibat dan upaya penanggulangannya. Wartazoa. (24): 57-67.

Tamzil, M.H., M. Ichsan, N.S. Jaya and M. Taqiuddin. 2015. Growth rate, carcass weight and percentage weight of carcass parts of laying type cockerels, kampung chicken and arabic chicken in different ages. Pak. J. Nutr. 14 (7): 377-382,

Tamzil, M.H., R.R. Noor, P.S. Hardjosworo, W. Manalu and C. Sumantri. 2013. Acute heat stress responses of three lines of chickens with different Heat Shock Protein (HSP) 70 genotypes. Int. J. Poult. Sci. 12: 264-272.

Tamzil, M.H., R.R. Noor, P.S. Hardjosworo, W. Manalu, and C. Sumantri. 2014. Hematological Response of Chickens with Different Heat Shock Protein 70 Genotypes to Acute Heat Stress. Int. J. Poult. Sci. 13 (1): 14-20.

Ussery H. 2011. The small-scale poultry flock: An natural approach to raising chickens and other fowl for home and market growers. Vermont (US): Chelsea Green Publishning.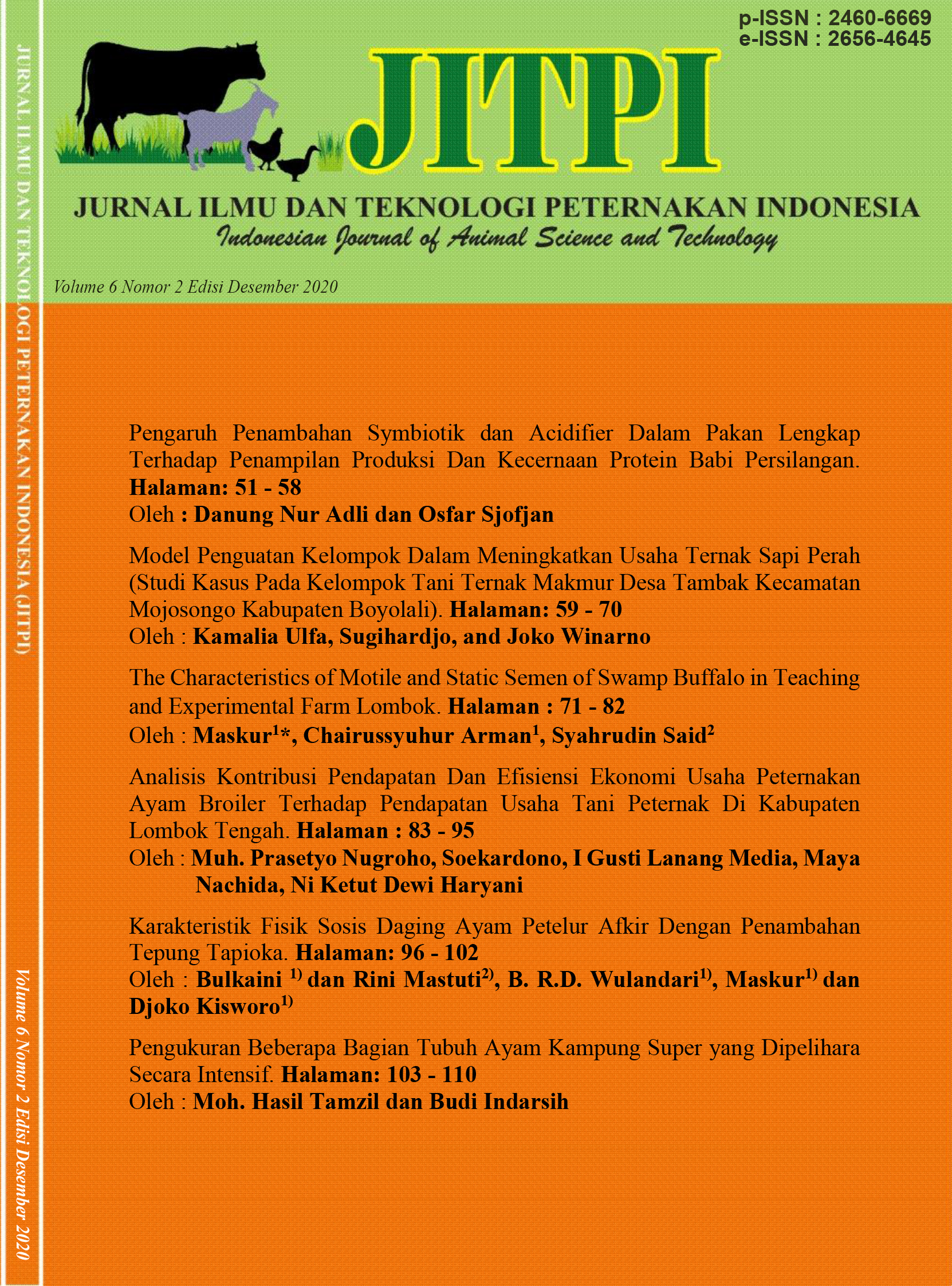 This work is licensed under a Creative Commons Attribution 4.0 International License.