Identifikasi Perubahan Sifat Kualitatif Ayam Arab: Studi Kasus Pada Peternakan Ayam Arab Penghasil Telur di Desa Beber Mantang Lombok Tengah
Mohammad Hasil Tamzil

Animal Science of Mataram University

I Nyoman Sukartha Jaya

Fakultas Peternakan Universitas Mataram

Budi Indarsih

Fakultas Peternakan Universitas Mataram

Ni Ketut Dewi Haryani

Fakultas Peternakan Universitas Mataram

Asnawi Asnawi

Fakultas Peternakan Universitas Mataram
Abstract
Penelitian bertujuan untuk mengetahui perubahan sifat kualitatif ayam Arab yang dipelihara sebagai penghasil telur.Penelitian dilakukan dengan pengamatan pada peternakan ayam Arab di desa Beber Kecamatan Mantang Lombok Tengah. Penentuan sampel peternak dilakukan dengan metode purpusive random dengan kreteria memelihara ayam Arab fase bertelur dalam kandang litter. Peubah yang diamati adalah warna bulu, warna paruh, warna kulit, warna shank dan bentuk jengger. Hasil penelitian mendapatkan bahwa ayam Arab yang diamati mempunyai 2 warna bulu, yaitu  warna silver dan gold. Terjadi penambahan warna paruh putih, yang semula hanya berwarna hitam, menjadi hitam dan putih. Hasil penelitian juga mendapatkan bentuk jengger pea, dari semula hanya berbentuk tunggal.
Downloads
Download data is not yet available.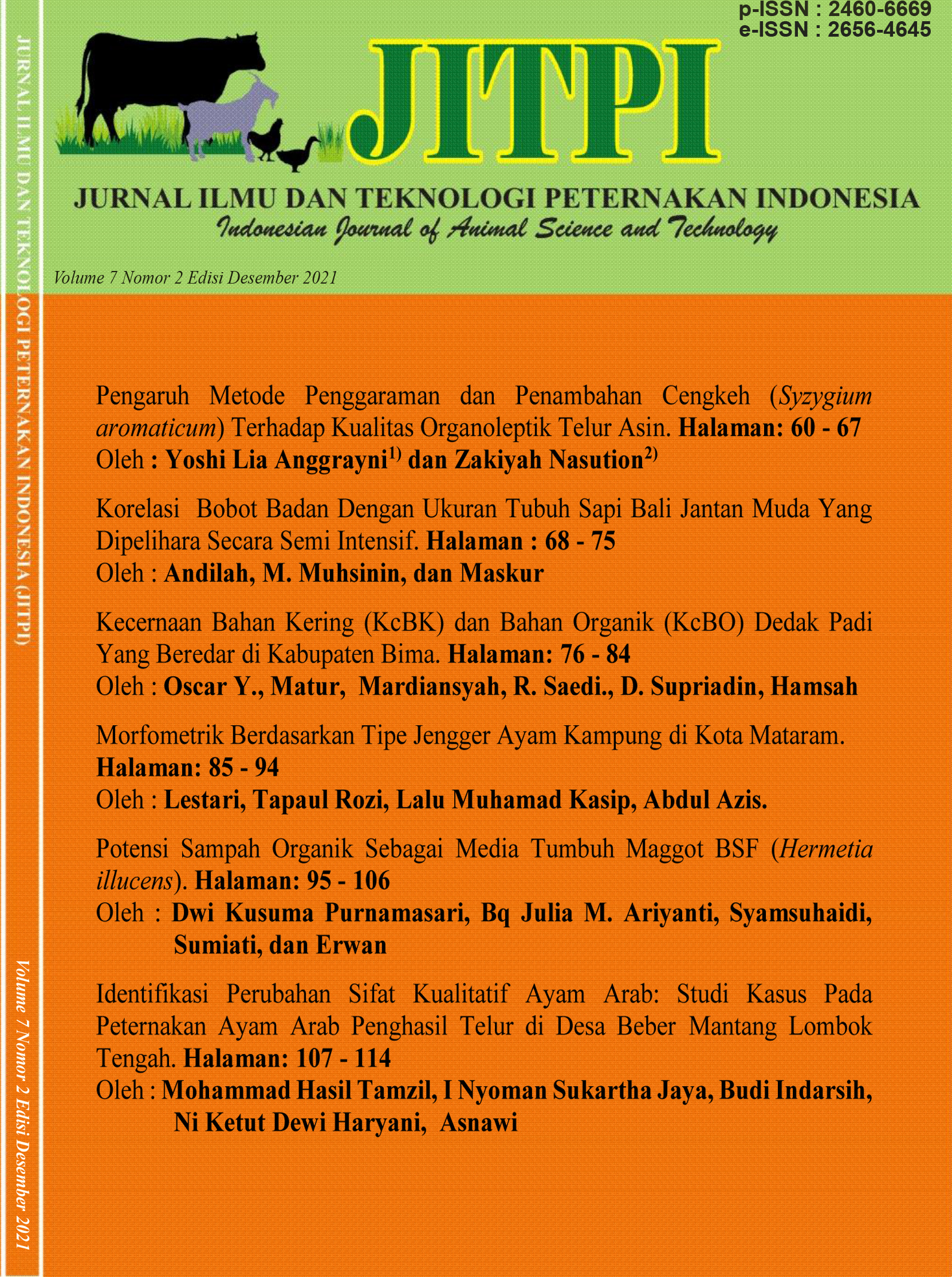 How to Cite
TAMZIL, Mohammad Hasil et al. Identifikasi Perubahan Sifat Kualitatif Ayam Arab: Studi Kasus Pada Peternakan Ayam Arab Penghasil Telur di Desa Beber Mantang Lombok Tengah.
Jurnal Ilmu dan Teknologi Peternakan Indonesia (JITPI), Indonesian Journal of Animal Science and Technology
, [S.l.], v. 7, n. 2, p. 107-114, dec. 2021. ISSN 2656-4645. Available at: <
http://jitpi.unram.ac.id/index.php/jitpi/article/view/102
>. Date accessed: 04 oct. 2022. doi:
https://doi.org/10.29303/jitpi.v7i2.102
.
This work is licensed under a Creative Commons Attribution 4.0 International License.