Performan, Karakteristik Fisik dan Kimia Daging Kambing Lokal Jantan Dengan Pemberian Pakan Kulit Buah Kakao Fermentasi
Bulkaini Bulkaini

Djoko Kisworo

Mastur Mastur
Abstract
Penelitian ini bertujuan untuk mengoptimalkan pemanfaatan kulit buah kakao (KBK) sebagai pakan ternak kambing dalam rangka meningkatkan kualitas daging. Penelitian dilaksanakan selama 2 bulan di Laboratorium TeachingFarmFakultas Peternakan Universitas Mataram. Materi yang digunakan adalah 9 ekor kambing lokal jantan umur 9-12 bulan dengan berat rata-rata 18,67±1,53 kg. Kambing dibagi secara acak menjadi 3 perlakuan dan 3 ulangan yaitu perlakuan P1: 30% KBK fermentasi tanpa fermentor, jerami jagung dan dedak (KBKFTF); P2= 30% KBK fermentasi dengan fermentor Bioplus, jerami jagung dan dedak (KBKFbioplus) dan P3=30% KBK fermentasi dengan souseburger pakan, jerami jagung dan dedak (KBKFSBP). Hasil Analisa Varian menunjukkan bahwa jenis fermentor berpengaruh nyata (P<0,05) terhadap pertambahan bobot badan harian (PBBh), konsumsi pakan dan keempukan daging kambing, sedangkan terhadap daya ikat air (DIA), susut masak, pH dan komposisi kimia daging tidak berpengaruh nyata (P>0,05). Kambing pada P2 memberikan PBBh sebesar 58,67±21,590 g/ekor/hari dan berbeda nyata (P>0,05) dengan PBBh kambingpada P1(49,75±18,557 g/ekor/hari) dan P3 (50,35±19,606 g/ekor/hari). Keempukan daging pada P2 (2,04±0,50 kg/cm2) berbeda nyata (P<0.05) dengan keempukan daging pada P1(1,97±0,58 kg/cm2) dan P3(1,74±1,26kg/cm2), sedangkan komposisi kimia daging tidak berbeda nyata (P>0,05) diantara semua perlakuan.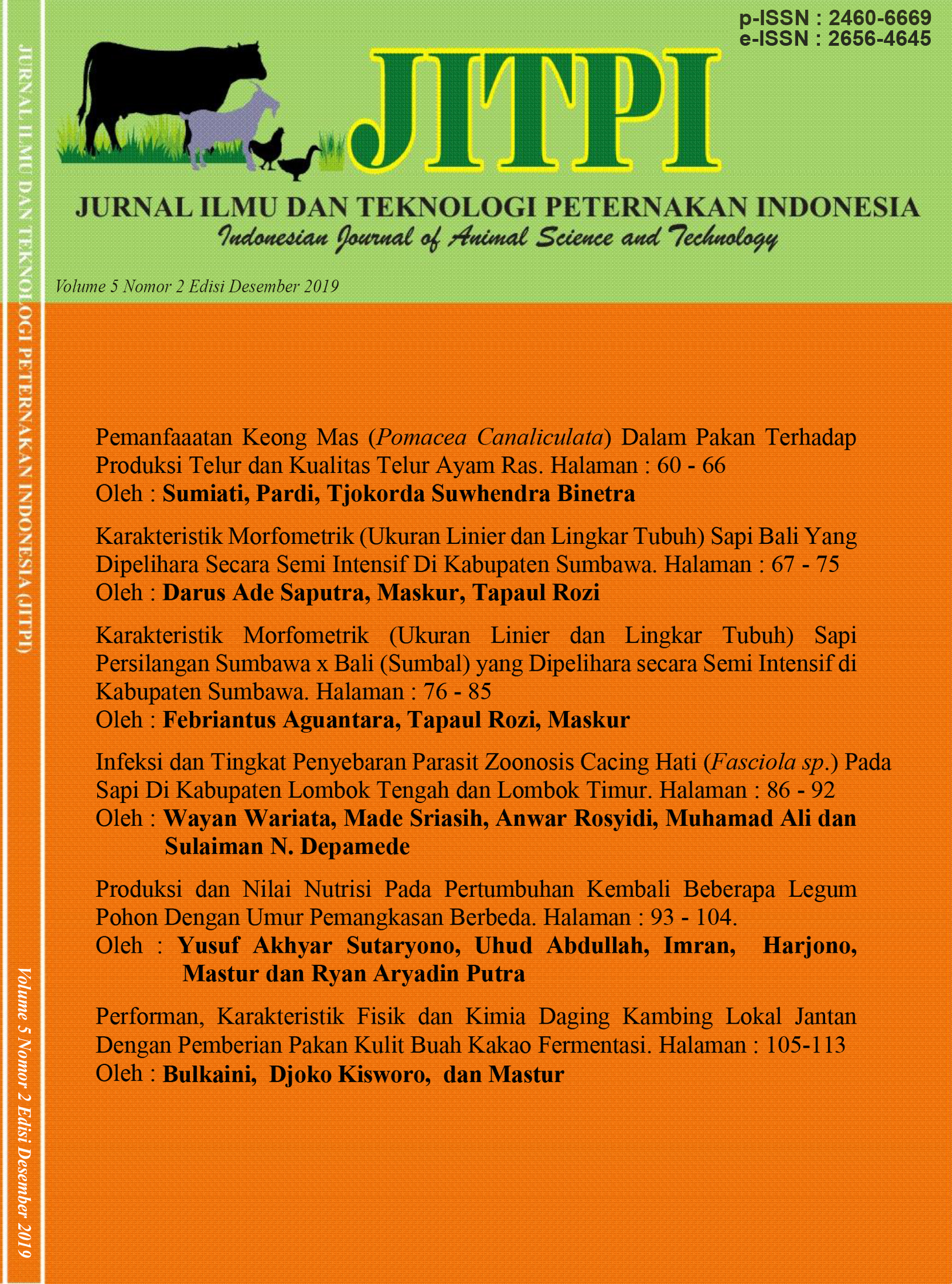 How to Cite
BULKAINI, Bulkaini; KISWORO, Djoko; MASTUR, Mastur. Performan, Karakteristik Fisik dan Kimia Daging Kambing Lokal Jantan Dengan Pemberian Pakan Kulit Buah Kakao Fermentasi.
Jurnal Ilmu dan Teknologi Peternakan Indonesia (JITPI), Indonesian Journal of Animal Science and Technology
, [S.l.], v. 5, n. 1, p. 46-54, dec. 2019. ISSN 2656-4645. Available at: <
http://jitpi.unram.ac.id/index.php/jitpi/article/view/57
>. Date accessed: 30 may 2020. doi:
https://doi.org/10.29303/jitpi.v5i1.57
.
This work is licensed under a Creative Commons Attribution 4.0 International License.